Minnesota Whiskey Plates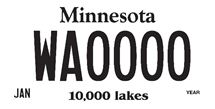 Minnesota Statutes

 require those involved in certain DWI incidents to obtain special registration plates, commonly called "whiskey plates." The impoundment order applies to the alleged DWI offender and the owner of the vehicle ("innocent owner"), if different.  
For a qualifying incident (see below), an alleged offender must obtain whiskey plates on any vehicle he owns or co-owns and intends to drive during the applicable period of plate impoundment, usually at least one year.  If the owner is different from the alleged offender, the owner must obtain whiskey plates only on the vehicle involved in the incident.  His other vehicles are not subject to plate impoundment.  It is misdemeanor crime for anyone to drive a vehicle subject to plate impoundment without displaying whiskey plates.
Many "innocent" owners can obtain prompt administrative rescission of plate impoundment by filing a 

request for administrative review of license plate impoundment

. The request should be granted if the owner was not present in the vehicle at the time of the DWI incident 

and

 the alleged offender had a valid driver's license.  Another basis for rescission occurs where the owner reported the vehicle stolen before the DWI incident occurs.  That is the rare circumstance. 
As seen above, whiskey plates have unique characteristics that make them readily identifiable to law enforcement.  They are called whiskey plates because they start with the letter "W" and are followed by a second letter and 4 numerals.  It is a misdemeanor offense for 

anyone

 to drive a vehicle subject to plate impoundment without obtaining and displaying the whiskey plates (even if the driver has never been involved in a DWI incident).  If a driver owns or co-owns multiple vehicles, he must obtain whiskey plates on all vehicles that are to be driven during the impoundment period. 
License plate impoundment applies for 

one year 

plus

 any additional time that the driver does not have a valid license. If a driver becomes valid through participation in the ignition interlock program, he will be required to have whiskey plates for the first year of ignition interlock (unless the offense is exempt from plate impoundment). If a driver does not return to valid, his vehicles will continue indefinitely to be subject to plate impoundment.  
Request for Judicial Review of Plate Impoundment
Drivers can challenge plate impoundment in district court if they file a petition for judicial review within 60 days of receiving notice of plate impoundment.  Generally, any judicial challenge to plate impoundment is coupled with a judicial challenge to the driver's license license revocation.  Thus, an Implied Consent Petition can seek judicial review of the license revocation and plate impoundment in one action.
Fees for Whiskey Plates
Currently, the Department of Public Safety charges an owner approximately $57 for each set of whiskey plates and charges the owner an additional $57 to remove the plates upon completion of the impoundment period. 
Plate Impoundment Offenses in Minnesota
Plate impoundment applies to the alleged commission of these offenses:
1.  Alleged commission of 

any

 DWI while having an alcohol concentration of 0.16 or more as measured by the official test of one's breath (Intoxilyzer), blood, or urine (NOT the preliminary breath test).
2.  Alleged commission of DWI or Test Refusal within ten years of a prior DWI conviction or DWI license revocation.
3.  Alleged commission of 

any

 DWI or Test Refusal while having a child under the age of 16 in the vehicle if the child is more than 36 months younger than the alleged offender.
4.  Alleged commission of DWI for a commercial driver (AC of 0.04 or more) within ten years of a prior DWI conviction or DWI license revocation.
5.  Alleged commission of Driving after Revocation, Suspension, or Cancellation (

Minnesota Statutes § 71.24

) by a person whose driver's license had been Canceled IPS (inimical to public safety – someone with three DWI incidents within 10 years or 4 or more offenses in a lifetime).
Can the police lawfully stop a vehicle with whiskey plates for no reason?
No, but whiskey plates can be one factor, but not the sole factor, used by law enforcement to establish "reasonable suspicion of criminal activity," which is the constitutional standard justifying a lawful traffic stop.  Interestingly, the Minnesota Legislature intended the plate impoundment statute to permit law enforcement to stop any vehicle bearing whiskey plates simply to check the lawful status of the driver.  However, the Minnesota Supreme Court in 2003 deemed the statute unconstitutional. Nevertheless, people driving vehicles with whiskey plates should expect greater scrutiny by law enforcement, and in practice, will be stopped by law enforcement more frequently than those driving vehicles with regular plates.